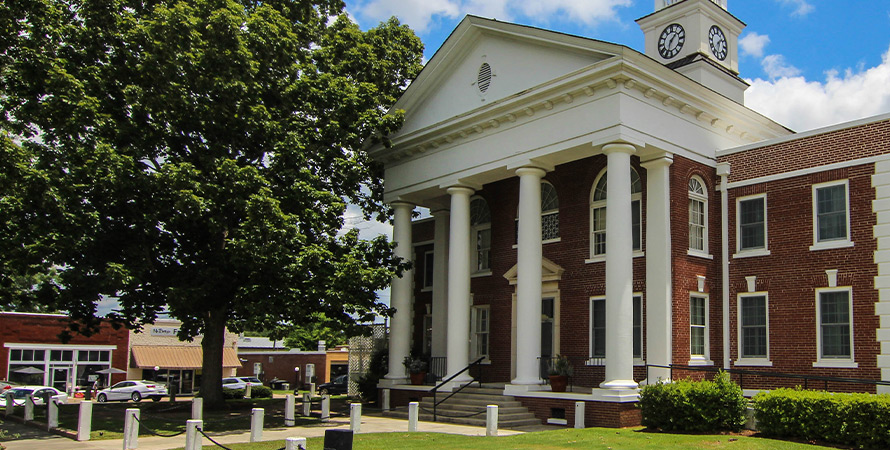 Taylor County Courts serve the citizens of the county through a fair, impartial, timely and cost-effective justice system that ensures all are treated courteously and with dignity.
Divisions of the courts are Superior Court and Probate and Magistrate courts.
---
Superior Court
Superior Court is a court of general jurisdiction handling both civil and criminal law actions. Superior Court judges preside over cases involving misdemeanors, contract disputes, premises liability, and various other actions. Superior Court also has exclusive equity jurisdiction over all cases of divorce, title to land, and felonies involving jury trials, including death penalty cases.
The Clerk of Superior Court maintains official court records and is located in the Courthouse.
The Clerk of Superior Court is a Constitutional Officer, meaning the position was created by act of the Legislature in the state constitution, and has been a county constitutional officer since the framers of the Georgia Constitution in 1798 provided for election of the Clerk of Superior Court in each of Georgia's counties.
Lisa McDonald
Superior Court Clerk
2 N Broad Street
Butler, GA 31006
Phone: 478-862-5594
Fax: 478-862-5334

---
Probate Court
478-862-3357
Probate Court exercises exclusive, original jurisdiction in the probate of wills, administration of estates, appointment of guardians and involuntary hospitalization of incapacitated adults and other individuals.
The Probate Court is also the traffic court for citations out of city jurisdiction and in the county.
Our court issues certain licenses and permits, for example:
marriage licenses
concealed carry permits
fireworks permits
Website links:
Dianne C. Renfroe
Probate Court Judge
---
Magistrate Court
478-862-3357
Magistrate Court has jurisdiction that includes:
civil cases of up to $15,000 or less
certain misdemeanor criminal offenses
county ordinances
bad check (Deposit Account Fraud)
issuance of criminal warrants
search warrants
The Magistrate Judge may grant bail in cases where setting of bail is not exclusively reserved to a judge of another court.
No jury trials are held in Magistrate Court. If a defendant submits a written request for a jury trial, cases may be moved to Superior Court.
Website links:
Dianne C. Renfroe
Magistrate Court Judge