2023 Tax Digest 5-year History of Levy


Welcome to Taylor County. Our unique pocket of Georgia provides easy access to the amenities of larger cities within a serene and secure setting. Taylor County is perfect for raising a family, starting a business, and engaging with nature.
Midway between Macon and Columbus, Taylor County and the cities of Butler and Reynolds comprise a supportive, welcoming community centered around small-town living.
Taylor County offers:
a comprehensive school system
a wealth of outdoor recreation opportunities
an established agricultural base
a relatively low cost of living
and a safe environment
Taylor County residents have opportunities to thrive and prosper in life and commerce.
Taylor County was created from Macon, Marion, and Talbot counties in 1852 and named for Zachary Taylor. Taylor's victory in the Mexican War Battle of Buena Vista boosted him toward the presidency of the United States. Butler, the county seat, is named for another figure in that conflict, General William Orlando Butler. In addition to Butler and Reynolds, Taylor County includes the unincorporated communities of Mauk, Howard, Rupert, and Potterville.
Please explore our website to learn more about Taylor County services and connect to the county departments and community resources you need.

COUNTY TAX RATE CHANGE
It has come to County Management's attention that some local businesses are not aware of the recent change to sales tax amounts. County Management reached out to the Department of Revenue for more information on their office's notification process, and received the following from a Senior Manager (paraphrased):
DOR does not send any notification or bulletin to any businesses when there is a change. It is the business's responsibility to check for the changes. There is a way that businesses can sign up with a "Listserv" subscription to be automatically notified here (for quarterly rate change alerts).
To get to the quarterly changes, click this link Sales Tax - Upcoming Quarterly Rate Changes | Georgia Department of Revenue
Upcoming quarterly rate changes are posted about 6 weeks before the quarter begins. You can find the rate charts (and other information) at: https://dor.georgia.gov/taxes/business-taxes/sales-use-tax/sales-tax-rates-current-historical-and-upcoming Look for the links titled "Sales Tax Rates – General" for the full rate chart and "Sales Tax – Upcoming Quarterly Rate Changes". When you click on those links it will list PDFs for each quarter's changes.

Local businesses, please use the above information to register for notifications and to monitor changes. Below, are the changes effective July 1, 2023.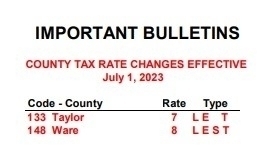 NOTICE OF INITIAL PUBLIC HEARINGS for TAYLOR COUNTY'S COMPREHENSIVE PLAN UPDATE:
Taylor County, the City of Butler, and the City of Reynolds are initiating an update to their joint comprehensive plan. This is to maintain current lists of needs and opportunities, confirm community goals, confirm preferred land uses, and update each jurisdiction's five-year community work program. Local elected officials can use the finished document to guide policy and management decisions directed toward implementing important economic development and revitalization initiatives. Initial public hearings will be held in conjunction with the Taylor County Commissioner's meeting Tuesday, April 4, 2023, at 6:00 p.m., 7 Ivy Street, Butler, GA 31006, and the City of Butler's council meeting, Tuesday, April 11, 2023, at 7:00 p.m., 12 Cedar Street, Butler, GA 31006. For additional information, contact clerks' offices in each jurisdiction. The public is encouraged to attend and participate in these important meetings and the update process. The previous plan may be reviewed at: Taylor County Comprehensive Plan 2019-2028



CodeRED
Taylor County has licensed the CodeRED Community Notification System and CodeRED Weather Warning service to help disseminate important or critical information and alert citizens in the path of severe thunderstorms, flash floods, and tornados. CodeRED's Weather Warning is an opt-in-only weather warning product that taps into the National Weather Service's Storm-Based Warnings. CodeRED Weather Warning automatically alerts affected citizens in the path of severe weather just moments after a warning has been issued.

We encourage all residents and businesses to sign up for this FREE service.

Click here for CodeRED

For more information please email info@taylorcountyga.com, or contact Pam Harris (478) 862-5127 or Rex Robinson (478) 862-3809



E-Verify #191533
Authorization Date 2/18/2009